NEW: Recover Tactical P-IX+ Modular AR Platform for Glock Pistols
$249.95 – $299.95
P-IX+ includes several upgrades from the original P-IX incl: reinforced upper rail, metal front guard, enhanced pistol retention, pistol grip w/ integral mag holder & option for our new buffer tube (w/ stock version). Convert your pistol into an AR Platform w/ P-IX+. Compatible w/ AR modular accessories incl. pistol grips, buffer tubes, stocks, flip-up sites etc.
Features: AR Ergonomics | Quick, easy gun install (see video below) | Uses standard AR accessories | Compat. w/ multiple Glock models (fit chart below) | Safety selector | Adjustable trigger | Multiple pic rails | Optional collapsible buttstock | Made w/ glass-reinforced polymer
When selecting a bundle from the drop-down, description & image update to reflect what's included (greyed-out parts in image are not included). All versions use same base platform. The only difference between options is what's bundled. FIT CHART below for COMPATIBILITY list. NFA Warning . NOT FOR EXPORT
*All parts are made by Recover except the stock. Flip-up sights sold separately.
90 DAY MONEY BACK GUARANTEE
LIFETIME WARRANTY
Description
P-IX Accuracy Testing At the Range


Fit Chart
PLEASE NOTE: P-IX+ is not compatible with ported slides (a.k.a. compensated slides, ported barrels).
G17 GEN2
G17 GEN3
G17 GEN4
G17 GEN4 MOS
G17 GEN5
G17 GEN5 MOS
G17L
G17P
G17T
G19 GEN2
G19 GEN3
G19 GEN4
G19 GEN4 MOS
G19 GEN5
G19 GEN5 MOS
G19T
G19X
G22 GEN2
G22 GEN3
G22 GEN4
G22P
G23 GEN2
G23 GEN3
G23 GEN4
G23P
G24
G31 GEN2
G31 GEN3
G31 GEN4
G31 GEN3
G31 GEN4
G32
G32 GEN2
G32 GEN4
G34 GEN3
G34 GEN4
G34 GEN4 MOS
G34 GEN5
G34 GEN5 MOS
G35 GEN3
G35 GEN4
G35 GEN4 MOS
G45
G45 MOS
UMAREX AND CYBERGUN OFFICIALLY LICENSED GLOCK AIRSOFT PISTOLS
Specs
Measurements in inches
P-IX+ Body Only (base kit):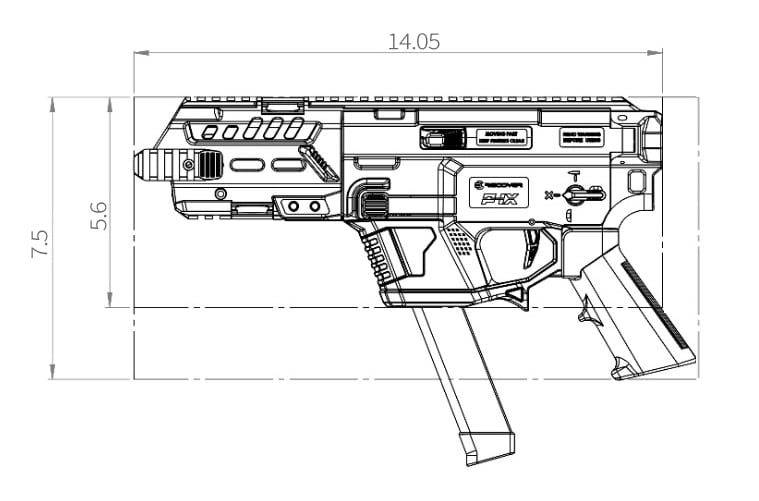 P-IX with generic Bundled Stock & Buffer Tube (You can also just buy the base kit and add any AR compatible products that use a standard threaded tube):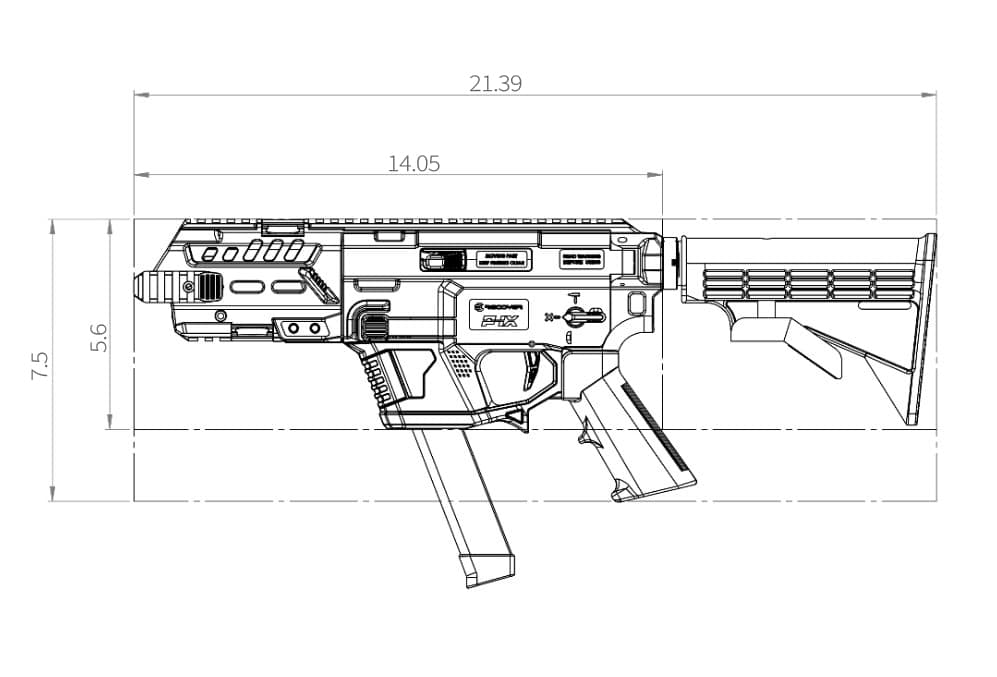 Product Disclaimer
Customer Questions and Answers
I love what u guys are doing but it seems that you are leaving out us small Guys who like to carry the Glock 26.

I saw in one of the questions asked if a G19 with a Truglow site would fit and the response was, yes, if the site was removed. But yet on the Fit List for 19's it starts with Gen 2. So the question is, will it fit an older G19?

How much is the faux silencer? I don't see it for sale on the website.

what is the weight of P-IX-B ?

Do you have any plans to make this for the P320? Or any of your other amazing products for the P320?

Will it work on a beretta apx centurion 9mm?

I've looked through the FAQs but didn't see anything reference the min/max magazine capacity. Will the 15 round glock mag fit?

Please make a Glock large frame option ie 10mm, .40

Will this work with suppressor sights

when will the next 2.0 model be released?

Can I purchase the tube and adjustable stock from you separately? I purchased the P-IX from a dealer at a Gun show and it came with the blade type brace and the tube is slick, no place for an adjustable stock to click in place.

I saw you said the glock 26 wouldn't stay in place bc it doesn't have a rail but I have a recover gr26 rail on think that'll be enough to make up for the space?

Does this work with the PSA dagger?

Does it fit with glock 35?

Any plans for the glock 30 in the near future Majority of the people in Loxahatchee I've shown this to, tend to carry the same This would knock mck out of the water

Why doesn't it fit the Glock 22 gen 2?

Does it come with the charging handle for both hand, Or just for right hand ?

Will a Glock 17M fit the P-IX?

Does it work for the Glock 19x? And do you ship out side usa like saudia arabia ? Thank you ..

I kinda feel confused about the chart. Is it saying the ones that it's not able to work with or the ones it does work on

Does it work for the Glock 21 sf

Any plans for the P80 version, yet?

What is the maximum diameter of suppressor can fit this chassis

I have a Glock 22 and a Glock 34 both are probably 10 years old . Will both work in this particular shell?

How can I buy it in Europe/Poland??

how would one connect a folding stock

Will it fit a glock 19 with a flared magwell just curious if i need to take it off before inserting.

Will this product fit a glock 17L gen 3

Is this compatible with a Glock 19x + suppressor??

If I beg hard enough, will you make one for Glock 29??

Glock 17 Gen 4. When the slide locks back after last-round hold-open, how do you access the slide release lever on the lower? It seems to be covered up and I can't get to it.

What all sights work with the P-IX?

What does the adjustable trigger mean?

Hello, I've purchased several of your 20/20 and 20/21 braces for my Glocks, probably gonna run one of these in the near future, however what I would love more than anything it to have something for my Springfield products. Specifically the XDM line. As far as product carry over what works for the standard XDMs will also work for their elites. The overall gun is the same. Will y'all please do something for the XDMs.

Some pics show with an attached longer barrel. Is this available from you?

How do you feel about people asking questions and wanting answers that they can find themselves by reading the description or applying common sense?

Will you be making a version for p80 frames?

Will it work with a aftermarket timney trigger?

I noticed it doesn't work P80 Glock clone. Will it work with any Glock clones such as the Rock Island STK100, PSA Dagger or other Glock clones? If not are there modifications a gunsmith could do that would make a clone work?

Does it fit a Glock 22 gen 5 ?

I don't see Glock 27 Gen 5 on the list, anything in the works for that model 27-gen 5

In the near future is it going to be compatible with glock 30 .45 ACP?

Why is the upper rail missing?

What is the difference between B and MG??

Initially, the upper rail was connected. However, recent photos and images do not have the upper rail on the shell outlet side. Has the design changed to missing upper rail?

is it legal in california

If you have a gen 3 g17 glock oem slide, Internal parts and trigger on a p80 bottom will it fit? If not what is the real difference in Dimensions that keeps it from fitting

How much longer? (Exact date/time)

Probably should have specified, my Glock 45 mos has a Holosun 507k x2 ALREADY mounted to it permanently. Can you remove the top pic rail so you can insert the Glock WITH the Holosun on the Glock into the platform?

Will the mag pouch and side rails that I already have on my stabilizer brace fit the P-IX ?
If my G19 Get 5 has the optic already installed will I have to remove it and reinstall on the P-IX top rail ?

Do you have an option where I can buy it with the pistol brace/stabilizing fin instead of a stock so I don't have to SBR it?

Will this take a Glock 45 with a Holosun 507k x2 red dot?

Will this fit Glock 23 Gen 2

can the grip be swapped out for one of my choice?

Does it work for a gen 5 Glock 17

I'm looking to get this with a collapsible PDW-style brace such as SB Tactical's SBPDW or Maxim Defense CCS. Will it fit and clear the brace's rails when fully collapsed?

Will this work with an airsoft Gun1:1 replica with one of the compatable glocks?

When will the first pre-order be delivered?

Are you using a mil-spec safety from standard AR lower?

Will this fit a Glock 17 that has suppressor height sights on it?

When are you GD shipping?

Is there an option to attach a pic rail to the back for foldy thingys?

Will it work with a Glock 17L? Sorry if this has been asked before.

Does this fit a glock 20 10mm?

Does it come with the charging handle accessory?

Will a Glock 19 with Truglo night sights fit in this? They are a bit thicker than the factory Glock sights.

Any plans on making a P320 version?

Will a glock 35 gen 3 competition frame fit in this

So this will fit a Glock 23 gen 4 right

Will polymer80 G22 and G17 fit in the P-IX AR?

Will this fit a Glock 29 10mm

Is the Stock with buffer tube collapsible or fixed (pinned)?

Is the top picatanny rail made of plastic or metal? Also does the glock wiggle or move at all when it's in the shell?

Since you're not using the Glock trigger, what is the trigger pull like?

Date available?

What glocks is it compatible with? Can't help but feel like that should be in the description. Work with glock 34??

Is this compatible with the Glock G44?

I purchased a fake suppressor for my PIX. I'm wondering if the diameter will be too large for it... what is the right diameter size to fit in this?

Will the pix work with a Glock 40 with the Recover rc12 rail

What time of March do you expect the products to be delivered ?

Can this be used with aftermarket trigger and extended mag release

are there plans to make a version compatible with P80?

Will this be available for g43x, and do you ship to israel?

Are there any plans on releasing P-IX for larger framed glocks, such as g20 or g21

Are you planning to release a left hand safety version?

Will this be available for Gen2 G19?

Will the stock version ship with buffer tube installed?

Is this legal in california

Will you be able to ship internationally? If so, how would I go about pre-ordering and shipping, Kind regards

Will any AR buffer tube work on the brace?

Is this compatible with the Hera Buttstock thumb hole grip? Are the specs from the buffer tube, the thumb curve and grip mount the same as oem at specs?

What is the difference between the B and the MG versions? I can't find I formation on that anywhere

Will this be compatible with a Glock 23 Gen 2 with a Recover Tactical Rail Adapter ?

DOES THIS PLATFORM FIT GEN 1 GLOCKS 40 CAL

Do you have a video test firing the Recover Tactical P-IX mount ?

Are you planning on manufacturing one for G20/G21's. This seems perfect for 10mm's.

So it's compatible with gen 3&4 Glock 22 but not the gen 5. Why is that?

If you choose the "No Stock" option does it ship with a buffer tube attached or do you have have to purchase that separate? Thanks.

G37 isn't on the fit chart. Is this correct or an oversight?

How can i release the barrel when is all open after the last round?is there some button or else? Thnx

Will a version for the M&P 2.0 eventually be offered?

Compatibility with a Gen 2 17 and rail adapter? I have a Gen 2 17 in the safe feeling real lonely.

Will there be a quick insert for the charging handle to quick attach to your pistol and into the PIX?

Does this come with a coupon to get your dog cremated after the ATF declares this illegal? asking for a friend

Wouldn't the stocked version be an SBR?

Will a PSA Dagger fit in this?

What is the device made of? Polymer? Aluminum?

Does it come with let up sights already on it?

Does this work with p80

Are there any future plans on building in a folding stock mechanism pre-buffer threads or a picatinny stock mount option?

Does the buffer tube either fitted with a stock or brace fold? Or would I have to add an aftermarket folding mechanism?

Will this fit glock 19

Can this ship to California?

What buffer system is included with the stock option? Mil-spec or commercial?

Does this come with a pistol grip? Can I add any Vertical forward grip to this? Is this "mlok" or picitinny?

What is the total length of the unit with and without the stock extended?

Will this be able to ship to chicago Illinois?

Will this kit fit P80 Glocks?? Like a G17 or G19 Polymer 80? Thank you

From the way the pistol mounts in the unit, I don't understand why a G26 would not fit in it.

How much is it going to cost.

Will there ever be a version for large frames?

Is there a technical specs sheet anywhere? I'm curious on some of the main mechanism materials and such.

The picture shows a stock, would the shell or the Glock need to be registered as an SBR?

Is it specific generation glocks?

will this fix g43

Is there plans to release this for other pistol platforms? Beretta?

Is there any chance that there will be one for the CZ Shadow2 any time soon? 🤞

Do You have a Brace version availible as a package?

Will this work with 3rd party slides?

Is there a approximate release date and MSRP for the P-IX ?

What glock size/models does this chassis fit?

Is it compatible with G26?

Does the charging only attach to Glock frames with vertical factory serrations? What about aftermarket slides with angled serrations?

Which gen and models of glock is this compatible with?

Is this Connecticut Compliant?

Is this compatible with polymer80?

The charging handle seems a little like the MCK, which I feel is extremely flawed, please tell me it attaches to the slide more securely?!

Same as the only other question

I see that in some pictures, it has a brace and not a stock. Is this an option, or something I'd have to purchase somewhere else aftermarket? If it is an option, which one? I have the 20/20 and love it and would also like this one, but without needing a tax stamp. Thanks
P-IX+